Rumor Killer: False Story On Disabled WWE Fan Being Kicked Out For Shirt
Posted By: Krysti on Apr 24, 2019
Some outlets have reported a story about WWE kicking out a man who is disabled after wearing a shirt with Jim Cornette's face on it. The news got to Cornette and he offered the fan a reimbursement for his troubles at the event... but, it turns out the story was completely false. The original tweet is deleted but viewed here on the image below.

The following is the exchange that occured: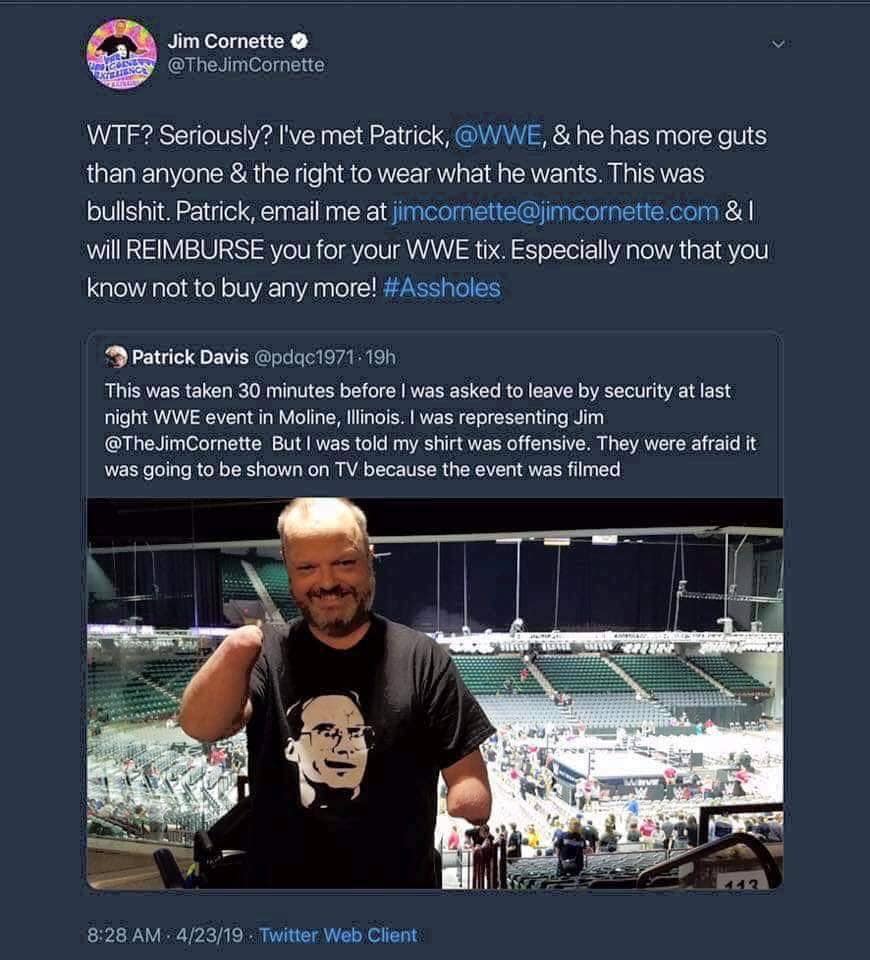 WTF? Seriously? I've met Patrick, @WWE, & he has more guts than anyone & the right to wear what he wants. This was bullshit. Patrick, email me at jimcornette@jimcornette.com & I will REIMBURSE you for your WWE tix. Especially now that you know not to buy any more! #Assholes https://t.co/C2oHLMbLSR

— Jim Cornette (@TheJimCornette) April 23, 2019
Okay, let's nip this in the bud right now. I had a house guest from Sunday to late Monday night. He thought it was funny to log into my social media accounts and post a bunch of fake BS While I was at dialysis. I never got kicked out of the show.

— Patrick Davis (@pdqc1971) April 23, 2019
To say the least, Cornette is not happy about this:
NEW RULES: Never believe anyone. Never defend anyone. Never be nice to anyone. Never make offers to help anyone. It's not worth the bullshit and/or aggravation to be a nice person anymore.#NoGoodDeedGoesUnpunished

— Jim Cornette (@TheJimCornette) April 23, 2019
UPDATE: Jim does his best to defect the hate Patrick is receiving. We must stress this was NOT a situation created by Patrick. He was in the hospital when it went down.
Seriously, everybody, it wasn't Patrick's fault and he feels bad enough. I never said it was Patrick's fault or encouraged anybody to be mad at him. I will clarify the whole story on this week's podcast. https://t.co/06jOheY6nP

— Jim Cornette (@TheJimCornette) April 24, 2019
https://wrestlr.me/57398/
» More News From This Feed