CM Punk Returns To Pro Wrestling Under A Mask
Posted By: Krysti on Apr 20, 2019
CM Punk was confirmed to have interrupted a match at Silas Young's promotion MKE Wrestling event "The Last Knight" which took place this Friday (4/19) at Knights of Columbus in West Allis, WI. While CM Punk has ruled out a WWE return he did show interest in perhaps something in the independent scene to pop up here and there, as mentioned in a ESPN interview on Russillo & Kanell Show in 2016. In additional details it seems CM Punk was spotted at the event wearing the very same sweatshirt you're seeing the masked wrestler wearing in the clip.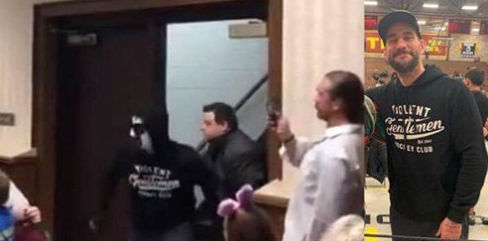 "But you never know, I could pop up here and there. Let me explain that to you even better. It's not going to even be televised, it's going to be me in a ninja f–king outfit wrestling one of my buddies and nobody's ever going to know. It's going to be very 'Monty Python' so to speak."
There is likely nothing to assume here about Punk making a long term return to wrestling, it's likely a one off appearance and he may indeed show up here and there elsewhere in the future. 
Here is some PUNK running in a match last night @MKE_Wrestling you never know who's in gonna show up at our shows. Former world champions have been stopping in at the last couple shows!!! Don't miss out on May 17 at our new home Buenavista Banquets 76&oklahoma next to AMF lanes https://t.co/rr8xVH8UJ0

— silas young (@lastrealmanROH) April 20, 2019
Who was this masked man who put @StHolmesEsq to sleep??? @DavePrazak @acesofsteel pic.twitter.com/o5Mcak3uIE

— MKE Wrestling (@MKE_Wrestling) April 20, 2019
Never say never!
https://wrestlr.me/57348/