Chris Van Vliet recently interviewed John Cen in Los Angeles as part of his press tour for Bumblebee in which he confirmed that he will be keeping his new hairstyle when he returns to Monday Night Raw in January, he also gave an update on Roman Reigns' health, admitted he wanted to turn heel and calls himself a "part timer". Check out the highlights below:

He is going to keep his new hair style on WWE television:
"It's going to look weird man. I don't even know if I can wear a cap. People are like 'no it can't happen!', well it's going to happen you'll see."
Has he spoken to Roman Reigns since he announced he has leukemia?
"I texted him the day of the announcement just letting him know that he is in really good hands and he is part of an exclusive fraternity. We all love him for what he's done. We all respect the fact that he is taking care of his health which is first and foremost and I told him if he needs anything he knows where to find me. I know Joe and I know Joe is a tough SOB and I don't ever expect him to say 'hey man, I need this', I don't ever expect to get that text but if I do I think we have a mutual understanding that it's as good as done."
He calls himself a "part timer" in WWE:
"For any WWE person to say right now that you're a part timer and you're going to Hollywood, they're absolutely right. And if they can't see why I'm making those moves, I don't expect them to, I don't expect to change their minds. I'm that guy who goes out and half of them say I suck and half of them like me. The part of them that say I suck, I'm never going to change their attitude ever. They say 'I want your character to evolve', well I got a new haircut guys, 'no I want you to go back to how you were'. It's the perfect example of you can't please everybody. I'm out to entertain folks and make people happy and those who do believe in what I do, to reinforce my behavior to keep them believing."
He admits he wants to turn heel:
"There are creative feelings inside me that would like to be a bad guy on WWE but that ain't gonna happen because that's not my job. My job is to be who I am and that comes from (Vince)."
https://wrestlr.me/55560/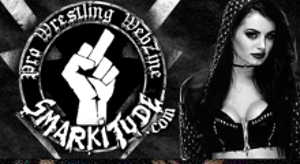 Adding comments is disabled due to age of article.