WWE SmackDown Live Tag Team Champion Jimmy Uso recently spoke to The Mirror in the U.K. about the reinvention of The Usos on SmackDown Live:
That's all us. I mean it, when you see this whole reinvention, that is every bit of me and my brother. It's so funny because the ring work has never changed. That's always been there. Our gear, literally, we wear that outside of the ring. That's how I dress. Even with the baseball cap, I'm always having a cap on. And I just felt it was me to wear a cap out there. It's little stuff like that to make us, us. That's what that was. That's how people found out we were real and they followed that and they could adapt to that. Everything is us, from the gear to the black and white, baseball caps to the shoes – I wore those same shoes I do when I'm wrestling – I wore them at high school. I wore those same shoes in high school. So when I'm telling you that's the Usos, that's the Usos.
As far as our ring music, we was dying to go and hop on that track. We heard John Cena on his entrance music, I remember The Rock being on his entrance music, I just thought that was really cool and added a whole lot more personality to them, personally. So what you see out there, that's 100% The Usos.
Getting more time on the microphone:
If you ever noticed through my whole career, since I've been here, we never, ever talked on the microphone. If you go back and watch the feuds with Roman [Reigns] and Dean [Ambrose], the babyface Usos with the paint, we never talked. And to me it was… mind boggling. I was always asking. We knew to be successful in this business, you got to do your thing inside the ring and you got to do your thing on the microphone. We wasn't given the chance to do it on the microphone until we got to turn heel and even like the first six months, we wasn't talking until we were like asking them and saying 'we got something to say'.
Finally it was our segment to say something after a match and there it went – that happened. And the next week we got a promo. And then the next week we got a promo. And then the next week we got a promo. They liked what we were saying and the way we were saying it, because it's real, so 'we're going to keep doing this'. So it's funny man, it wasn't like we were talking about the wrong stuff, we just never got the chance to talk.
How far can the team of Chad Gable and Shelton Benjamin go?:
I don't know man, to me I feel like that's something you got to ask Shelton and Gable. Ha ha. I know what we're bringing to the table. These other tag teams have got to bring everything they've got to table to get on our level. The New Day, that feud right there – classic. Classic man. There was a rap battle in there and I ain't never seen a rap battle done that way in the WWE. Yeah I've seen John Cena spit a couple of freestyles to Kurt Angle and stuff like that, you remember when he was the Doctor Of Thuganomics? But I ain't never seen a rap battle like that though. I just thought that was fun man.
Shelton and Gable, they are a real technical tag team, but they are new together so they still got a whole lot to learn about each other. But Gable is lucky he has Shelton in his corner, because Shelton was a mentor of mine before I started – he trained me at Booker T's school [in Houston, Texas]. Gable is in good hands, I can vouch for that. I'm actually anxious to see what happens to Shelton and Gable man because that tag team right there, is the tag team to look out for, definitely.
https://wrestlr.me/50835/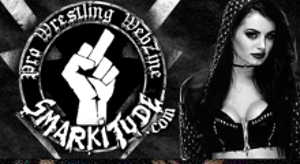 Adding comments is disabled due to age of article.