WWE SmackDown Live Superstar Natalya Neidhart recently spoke to AudioBoom.com's Baby Huey and Bimbo Jimbo about what it was like at Raw 25 and getting the chance to talk to WWE Hall of Famer Trish Stratus.
Being backstage at Raw 25:
"It was surreal being backstage last night because there were so many iconic people from my childhood, and so many special characters from the most special time in WWE history. You look at the people who helped build Raw, and made Raw what it is today. Like Trish Stratus, and Steve Austin, and APA…Even just outlandish characters like the Boogeyman…Who could forget Mean Gene Okerlund who was a voice from my childhood…I remember when DX invaded our TV Screens, and Steve Austin gave Mr. McMahon the first stunner on live TV. Trish Stratus and Lita main eventing Raw for the first time for women to do that. It was really cool being backstage, and I felt like a kid in a candy shop. Even though I'm a superstar in the WWE I am still a huge fan of the people who came before me and paved the way for me to do what I do today."
Speaking with WWE Hall of Famer Trish Stratus backstage at Raw:
"When I was 19 I met Trish for the very first time. I met her backstage. She didn't know who I was and she didn't know really anything about me, but she took the time to talk to me, and we talked for quite a while, and she was just so sweet to me and so genuine and so gracious. All these years later it was always something that stuck with me…For the first time in knowing Trish I got to tell her last night that she's such an influential person to me because when I first met her she was so kind to me. I think about that when I meet up and coming superstars. Guys, and girls that are trying out in the WWE, or want to be a part of the business, and you never know who's going to make it, and you never know if it's going to be your conversation that you have with them that's going to be a turning point in their life or their dreams. I told Trish that her meeting with me backstage really confirmed that I really wanted to be a part of WWE and do what she was doing…I wanted to capture that moment, and let people know how important it is to treat people with respect the way that Trish treated me, and she didn't have to."
"I told her growing up I never had a shortage of inspiration. I never had a shortage of people to inspire me. When you grow up with the likes of Bret "the Hitman" Hart, Owen Hart, and The British Bulldog, my grandfather Stu Hart, and obviously my father Jim "the Anvil" Neidhart you know I had a lot of people that I looked up to, and especially in the ring. But she was the first woman. She was Canadian, she was blonde, and she was beautiful, but she was also really tough. She wrestled through a broken nose, she main evented raw, and she just broke down these barriers for women. She was just this woman that made me want to do this more so than even any person in my family, and so I wanted to be like her."
Competing in the first-ever Women's Royal Rumble Match:
"I mean to be a part of the first ever women's Royal Rumble, it still really hasn't sunk in to me that I am going to be with 29 other women making history. It's very special, and again the women's evolution in WWE we are on a roll. You've seen us in the last couple of years have a Hell in a Cell Match, main event Raw, main event Smackdown, main event a pay per view. We have had two back to back Women's ladder matches. We've done so many incredible things, and now to be making history with the first ever women's Royal Rumble it's going to be epic. It's definitely going to be a moment that I don't I'm going to ever forget."
https://wrestlr.me/50311/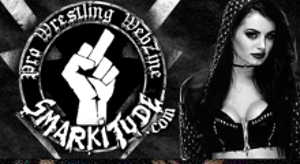 Adding comments is disabled due to age of article.