For those of our readers that have been following us since our Wrestling-Radio.com days, I have some extremely sad news to bring to you. Doc Young, who hosted "Wrestling Weekly" alongside Les Thatcher from 2005-2008, and in 2010 has passed away. We promoted the show heavily during it's first run.  
Below is the statement I put out on my personal Facebook page and also from Young's co-host Les Thatcher.
I was just about to head to bed when I received the awfully sad news that Jason "Doc" Young who I worked closely for a period has passed away. Doc hosted Wrestling Weekly alongside the legendary Les Thatcher from 2005-2008.

Pre-dating WrestlingNewsSource.com, I ran Wrestling-Radio.com which promoted various wrestling radio shows, this was a while before podcast syndication took off. The website was also real go-to destination if you wanted to know upcoming wrestler interviews and access episode archives for all the wrestling radio shows. In fact, the domain is still active to this day!
It was those early days that I formed some great friendships and business relationships. Doc was one of those people who was just so professional in his approach and a true pleasure to work with. We gave hosts back then access to update the own show profile and Doc would always (without fail) keep his updated for the fans. In fact, Wrestling Weekly was probably one of the most requested shows on Wrestling-Radio.com. Sadly Doc had to retire from hosting Wrestling Weekly due to ill health, a mystery at the time and I believe up until his death.

The show did return in 2010 for a brief run on The Observer/Figure 4 Weekly website but sadly Doc's health would plague him again and forced him to give up his hosting duties.

I know Doc was very unwell for the best part of a decade but I also know he was a courageous fighter until the end.

I had hoped for one last Doc/Les run, but sadly that isn't meant to be. Thank you so much for all you did Doc.

My thoughts and deepest condolences go out to Doc's friends and family and his loyal co-host Les Thatcher.

R.I.P Doc Young
Ben Kerin

Director of WrestlingNewsSource.com "Wrestling-Radio.com"
Les Thatcher Statement:
This has been a horrible week. First he passing of my dear friend Matt Anoai, and now I've heard that the man who got me into the pod cast business in 2005 Jason "Doc" Young has passed away.

Doc talked me into starting "Wrestling Weekly in May of 2005, and he earned us a couple of awards as well. Then in 2008 he came down with a mysterious illness which caused him to cough involuntarily and finally we had to shut the show down. This illness had Doc in and out of various hospi

tals with a battery of doctors who never could quite figure out what was eating away at is immune system.It came close to taking his life on several occasions.


In March of 2010 he felt well enough that we brought the show to The Observer/Figure 4 Weekly site, but then his voice began to fail him once again, so he partnered me up with my current co-host the talented Vic Sosa, but Doc continued too produce the show and also did producing work for other shows on the site. But then a couple years ago his health got to the point where that was no longer an option, He came on with Vic & I few times but couldn't stay long as he tired easily.


Doc took so much pride in the show and our friendship & found it cool that I always referred to him in correspondence as "My Partner".


You will hear many things about Doc, but please know that pound for pound he was the toughest bravest man I have ever known because until today he has beat the hell out of this unknown sickness since it began almost ten years ago.
Go with God my Partner and know that I can't thank you enough for your love and friendship over the years. Vic and I will carry the torch you set fire to 12 years ago, and do our best to make you proud .


Oddly this photo was taken at a show Doc promoted in Indiana and I made the trip there with Matt "Rosie" Anoai who wrestled that night.


You can rest now Doc the battle s over and you fought like a warrior 3 times your size. With much love & respect. R.I.P.
https://wrestlr.me/46172/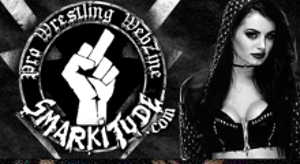 Adding comments is disabled due to age of article.