As we've come to find out, when Daniel Bryan captured the WWE World Heavyweight Championship at WrestleMania 30 by defeating Randy Orton and Dave Batista in an epic Triple Threat Match, the best days of his in-ring career were already behind him. In fact, Bryan was near the tail-end of his career at that point, although nobody knew it at the time. Throughout 2013 and 2014, Daniel Bryan became the most popular and beloved Superstar on the entire WWE roster and was getting overwhelmingly positive crowd reactions that no other Superstar had received in years. But despite his undeniable popularity, WWE never seemed to really want to showcase Daniel Bryan as being the new face of the company. Throughout that entire period of time when Bryan was getting ridiculously good crowd reactions, many fans felt frustrated by what seemed to be a lack of commitment to Bryan on WWE's part.


Sadly, Daniel Bryan's in-ring career in WWE officially came to an end in 2016, although it really ended back in 2015 shortly after he captured the Intercontinental Championship at
WrestleMania 31
. Bryan was forced to relinquish the Intercontinental Title exactly the same way he was forced to relinquish the WWE World Heavyweight Title a year earlier; because of his injuries.
Although Bryan cemented a legacy for himself during his five-year career on the WWE roster, most would agree that he never quite achieved all that he was capable of. But WWE has kept Daniel Bryan in the company as the on-air General Manager of
SmackDown Live
, and he also provided excellent commentary alongside Mauro Ranallo during the highly-acclaimed WWE Cruiserweight Classic tournament. He has a beautiful and caring wife in Brie Bella and the two are expecting their first child together. Although Bryan's in-ring career may have ended on somewhat of a sour note, his life in general continues to be positive.
Nobody can ever quite fill the void that Daniel Bryan left as an in-ring performer or as a character, but if there's anybody on the roster who could rise to the occasion and become popular with the fans in a similar way that Daniel Bryan did, it might be former NXT Champion Sami Zayn.
As most fans know by now, Sami Zayn competed all over the world as the masked El Generico character. He achieved his greatest success as El Generico in Ring of Honor when he captured the ROH World Television Championship from the legendary Christopher Daniels at
Best in the World 2011
. He was also very successful in the Pro Wrestling Guerrilla promotion, where he was a two-time PWG World Champion and a five-time PWG Tag Team Champion.
El Generico was a unique character to say the least. He portrayed (or parodied) a "Mexican luchador," although it was pretty clear that he was not Hispanic. But that was one of the fun things about the character. El Generico was, quite simply, "The Generic Luchador." He was billed as being from Tijuana, Mexico and came to the ring using "¡Olé!" by The Bouncing Souls as his entrance music. He used a devastating Brainbuster (or BRAINBUSTAAAAAAAAAAAAA!!!!!!!!!! as he liked to scream out) as his finishing maneuver and used lots of other high-flying and exciting maneuvers that you would expect to see in Mexican Lucha Libre.
As entertaining as El Generico was to watch, the man who was behind the mask is far more interesting. Sami Zayn, whose real name is Rami Sebei, is originally from Canada. He is a Muslim Canadian of Syrian decent. He has traveled all over the world for his wrestling career and speaks several different languages (English, Spanish, French, and Arabic). He has earned the respect of fans and colleagues for being a true master of his craft. He's an incredibly talented in-ring performer who works hard and has a good attitude. He paid his dues on the independent circuit for years before finally making it to WWE's NXT developmental territory. He captured the NXT Championship from Adrian Neville in late 2014 and held it for just over two months before losing it to his arch rival/former best friend, Kevin Owens.
Sami made his debut on WWE
Monday Night Raw
in May of 2015 to challenge John Cena for the United States Championship. Sami put up one hell of a fight before finally going down to the legendary 15-time WWE World Champion. Sami had injured his shoulder just before the match, but still managed to put on a great performance.
When Sami returned form his injury, he reignited his feud with Kevin Owens. The Sami Zayn-Kevin Owens rivalry has been one of the most intense rivalries in WWE history. Their matches have been phenomenal, even prompting the fans to start chanting "Fight Forever!" every time Sami and KO step into the ring together.
After exchanging wins and losses with each other, Sami Zayn finally defeated Kevin Owens at the July 2016
Battleground
pay-per-view to at least temporarily put their feud to rest. Since then, Kevin Owens has gone on to become the
Monday Night Raw
Universal Champion, while Sami Zayn continues to be a popular Superstar on the
Raw
roster who is always a top contender to either the United States Championship or the Universal Championship.
Although Sami Zayn does seem to have a secure spot on the
Raw
roster for right now, one can't help but wonder if WWE has any plans to ever make Sami a World Champion at some point down the line. Now more than ever, WWE seems to be much more open-minded than they've ever been before. They seem to favor sheer talent over physical appearance nowadays. This is good news for somebody like Sami Zayn. It means that his hard work and talent could result in a very bright future in WWE.
Much like Daniel Bryan, the WWE fans seem to love and respect Sami Zayn for being the tenacious underdog who simply refuses to lose. Although neither one of them look very intimidating, they are both highly-capable warriors inside the ring who will kick your head off in a heartbeat. They both have tremendous fighting spirit and a competitive fire that cannot be extinguished. They both traveled similar paths to make it to WWE. They are both very passionate about what they do and carry themselves in a professional manner. Quite frankly, the only real difference between Sami Zayn and Daniel Bryan is the fact that Bryan has been forced to retire from in-ring competition, while Sami gets to continue to perform.
Also like Daniel Bryan, Sami always seems to get very good crowd reactions. The fans want to cheer for Sami Zayn, just like they wanted to cheer for Daniel Bryan. His "Worlds Apart" entrance theme is fun to listen to and his matches are hard-hitting, fast-paced, and downright fun to watch. You can tell that he truly loves to perform and wants to make sure that the fans get their money's worth.
Daniel Bryan was the likeable, humble underdog who was bound and determined to win his matches and be successful. Sami Zayn can be positioned in that very same role. That's not to say that they should necessarily try to have Sami copy anything specific that Daniel Bryan did, but there's no reason why Sami couldn't be somewhat of a new Daniel Bryan type of character. Even the Daniel Bryan "YES!" chants could carry over to Sami. The "YES!" chants have expanded beyond Daniel Bryan, just like the "Stone Cold" Steve Austin "WHAT?!" chants expanded beyond just Steve Austin. "WHAT?!" and "YES!" have been chanted at numerous Superstars over the years. But if anybody could become the next "YES!" Man of WWE, it really could be Sami Zayn.
The fans already like Sami and like to cheer for him. Imagine what could be done with Sami if they just do a classic "Championship Pursuit" storyline with him, especially if it's for the Universal Championship on
Raw
or the WWE World Championship if they ever move Sami to
SmackDown
. Regardless of which title Sami were to challenge for, surely the fans would rally behind him if WWE were to book Sami in a long pursuit for World Championship gold. The long, drawn-out Championship Pursuit has been done countless times before. It's classic wrestling tradition. But if it's done right and booked properly, it will never get old. And Sami Zayn could be the perfect choice if WWE ever wants to create another lovable underdog chasing after the gold, much like Daniel Bryan.
Sami Zayn challenging Superstars like Kevin Owens, Seth Rollins, A.J. Styles, Randy Orton, John Cena, Dean Ambrose, or Roman Reigns for championship gold could be great business if booked properly. Especially if it's Sami Zayn vs. Kevin Owens. Just imagine Sami Zayn vs. Kevin Owens for the Universal Championship at WrestleMania. They would undoubtedly put on one of the greatest matches in WrestleMania history. A Sami Zayn Universal Championship or World Championship victory at WrestleMania is a feel-good "WrestleMania Moment" just waiting to happen. Not only could Sami be a champion in WWE, but he could be a great champion if given the opportunity. He's popular with the fans, he has a love for the business, and he will always strive to put on excellent performances in the ring. There's no reason why Sami Zayn can't be one of the top Superstars on the WWE roster for years to come.
CLICK HERE TO JOIN THIS ARTICLE'S FACEBOOK CONVERSATION!
https://wrestlr.me/44071/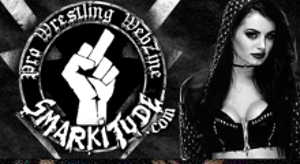 Adding comments is disabled due to age of article.