Today is a very special day for me. WrestlingNewsSource.com celebrates 10 years online. The concept which started when I was a mere 14 years old has endured a decade online! It's enabled me to work with WWE, TNA, CZW, ROH and so many other brands I could never have dreamed of teaming up with. I've work with some of the greats of our industry to provide our fans with the best online community out there. I've just had so much fun with staff and fans...it's been a privilege...
How did is all start? Well, Having met my business partner Krysti a year prior we launched "Wrestling-Radio.com" - The forerunner to WNS in 2006. The idea was simple, to provide a hub where wrestling radio shows could advertise their weekly shows and store an archive of all their content. At the time YouTube was in it's infancy and getting a wrestling radio out there to fans wasn't as easy as it is today.
The concept lasted a solid 4 years before the growth of call-radio sites like BlogTalkRadio and other free podcast hosting platforms began to dominate. Not phased by this change we adopted a new domain in 2010, "WrestlingNewsSource.com" which would switch our focus to news, social media and our very own podcast. Going back a little to 2006 I remember MySpace (do you?) - It's really where it all began for our social media. The bulletin board was the shit back in the day and I dare say we wouldn't be as largely followed on Facebook or Twitter, with a followership of over 504,000 fans had it not been for MySpace back in the day. It's truly remarkable how we have evolved with social media!
I have so many great stories and memories...so many. The "Wrestling Pit" forum, which was part of The Irish Whip wrestling radio show, that myself and my longest serving staff member Caylon Knox were a part of, including my good friend Sexton Hardcastle. Did I mention THE IRISH WHIP!? ... Joe and J.P. ...I'll never forget those two (they must be ancient now). Who could also forget my interview with Hillbilly Jim's nephew? I never did confirm if it really was his Nephew (to be young). The honor to have hosted ECW, NWA, and AWA World Heavyweight Champion Steve Corino's official forum, working with WWE Cruiserweight Classic competitor Drew Gulak in launching the hugely controversial official Combat Zone Wrestling forum, which we hosted for a while. I'm truly honored to have worked with Gulak and wish him all the best for the future.
One of my greatest things about WNS today is that we have a world-class Podcast hosted by some great guys, Danny, Doug, Tyler and Ryan - The best part about all this is they have become dear friends, truly special friends. I was privileged enough to go out to Texas and see them in 2014, in what was proving a difficult year for me personally and they were all so great to me, very hospitable. Although I couldn't make Danny and Tyler's wedding I was honored to have been invited, extremely honored.
On the subject of staff, I love and appreciate them all. But I have to give a special shout out to three of our longest serving team members. Caylon who has been there right by my side even before WNS was a concept. We met in 2005 and he has been without a shadow of a doubt the most loyal, supportive and hard working people I have had the privilege to work with. I write this with a tear in my eye, because I love this guy so dearly. He's a little bonkers, he's constantly questioning modern technology and he loves his Arby's but that's Knoxy for you. I just want to say from the bottom of my heart THANK YOU Caylon. Next, I also want to thank Kenny, He's been with us since around 2008. He's been fiercely loyal to news reporting. He's a constant source of support and reliability - I call him Ken Doll and I appreciate all you do - THANK YOU. Btw, I have nicknames for all my staff which brings me to JELLY ...no wait...JELIO? ...NOOOOOO JELLY BALLS! Better known as Elio. This guy is the backbone of our live coverage, no event or multiple events phase him. He bounced back a couple years ago from a damn transplant into the crazy world of WNS without complaint, JELLY BALLS ...THANK YOU!
There have also been staff members that have come and gone. Some I've not seen eye to eye with, but I don't hold a grudge when it comes to the hard work they put into to helping elevate WNS, Thank you.
In closing, I would like to thank one final person. Her name is Krysti. She is often the silent partner in this operation, sometimes for good reason ;) - But there would be no WNS without Krysti, her sacrifice, hard work, sleepless nights have helped get us to this point today. She has mentored me from the age of 14, she's the only one who can tell me off :P ...she is very special and I'm very honored to call her a friend and partner.
It really has been an honor to serve the internet wrestling community in one way or another. I'm humbled that I can say I have fans, hundreds of thousands of fans, some of whom become colleagues and many of whom become friends. I have so many stories, but those are for another day.
We truly appreciate each and every single one of our loyal readers. The future is looking bright with something BOLD...something DIFFERENT and something pretty damn COOL coming soon from camp Krysti, keep an eye out.
For now, I invite you to read a special retrospective column, which was written by Cayon with comment from our longest serving staff members, Click here to read.
Ben Kerin
Director of Wrestling-Radio.com (2006-2010) / WrestlingNewsSource.com (2010-present).
https://wrestlr.me/43324/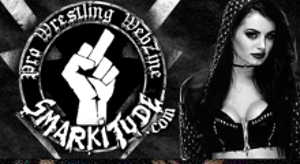 Adding comments is disabled due to age of article.