WWE Diva Natalya Neidhart recently spoke to The Miami Herald.
Women taking over in WWE:
"Women, we call the shots, whether it's your mother, wife, even in my relationship , my better half knows that Nattie calls the shots. In WWE, Stephanie McMahon, I would vote for her to be President of the United States. She is beautiful, intimidating and endearing, all at the same time. Women are taking over in WWE. People look at WWE and think it's very male dominated, but really it's not. There's a nice blend and balance of women who are involved in WWE. You look at Stephanie McMahon and Vickie Guerrero and AJ Lee and this cast on 'Total Divas.'"

Can women get more spots on TV and PPV?
"Of course. I'm not saying this in a cocky way, but I think women are taking over, whether it's [singer] Beyonce or [MMA fighter] Ronda Rousey or all the divas in WWE. Look at Stephanie McMahon. When she comes on your screen on [WWE] Monday Night Raw, she's engaging. When you watch her, you want to hear what she's going to say. You look at Vickie Guerrero, and you look at AJ Lee, and you look at the Bella twins. Even if you watch 'Total Divas' and you think the Bella twins are cocky or sassy or arrogant, you're watching. You're tuning in, and you're hanging on every word they're saying. I think that we have a nice blend of power women who are kind of taking over WWE. Go by what they do, not by what they say. If you're watching WWE and you're seeing all these women on your television screen, you know the tide is turning, and things are changing. WWE is always evolving and changing and growing, and for women our role in WWE is getting bigger and stronger and better, as it should. That's the way it's always worked in WWE. Our reality show 'Total Divas' is proof of that. You have seven divas, and we have an hour long show every week on another network [E!] that partnered with WWE to show what our girls do. You turn on SmackDown, and you see Vickie Guerrero, and you turn on Raw, and you see Stephanie McMahon, and you see all the girls. It's very empowering to know that women are taking over WWE."

Possibly training new talents in the future:
"For me, everything is situational, especially with my career in WWE. I learned a long time ago not to plan too far in advance, because the minute you start planning your life, it all takes a different direction. I was one of those people who liked to have all her ducks in a row, but now I don't do that. I take it one day at a time, because everything can change, and you have to be willing to roll with the punches and the ups and downs, the highs and the lows. Although, I do really enjoy working with new talent, women and men, and I love training people. I think training people makes you better at your craft, but I don't know. It will just depend on the situation, and if the right opportunity presents itself, but I can't say what my future holds."
https://wrestlr.me/32428/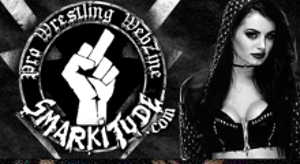 Adding comments is disabled due to age of article.