Advertise With WrestlingNewsSource.com - Great Deals Inside
Advertise 
Thinking about advertising with WrestlingNewsSource.com?
Do you have a professional wrestling or Martial Arts/combat sports website? Looking for a good advertising partner to help your site get more visitors? Look no further than WrestlingNewsSource.com!
WrestlingNewsSource.com, or WNS for short, started out as a small website way back in August of 2006 when we were Wrestling-Radio.com. We've come a long way since the days of MySpace and our small chat forum which was known as "The Wrestling Pit." Advertising has been a huge part of our growth, so we understand what it means to have good advertising partners. As of right now, our Facebook page has over 18,000 Likes and our Twitter page has 31,000 Followers! Our main WrestlingNewsSource.com page receives anywhere from 20,000 to 45,000 hits each and every day, with over 1.3 million page views and half a million visits each month!
To give you a bit of insight about WNS, we post news, results/live coverage, and opinion articles on our website. We cover news items concerning World Wrestling Entertainment, Total Nonstop Action Impact Wrestling, Ring of Honor Wrestling, Extreme Rising Pro Wrestling, the National Wrestling Alliance, and various other wrestling promotions from around the world.
Although we are primarily a professional wrestling website, we understand that many of our readers also enjoy Martial Arts and combat sports. These days especially, pro wresting and fighting have become very much intertwined with crossover athletes such as Ken Shamrock, Dan Severn, Brock Lesnar, Dave Batista, Bobby Lashley, King Mo, Eve Torres, Kid Kash, "Iron" Mike Tyson, Floyd "Money" Mayweather, and many other athletes who have been involved in both pro wrestling and Martial Arts/combat sports. We do extensive coverage of such athletes so our readers can keep up with what's going on in both sports.
Whether your website is about professional wrestling, Martial Arts/combat sports, or other, WNS would be happy to advertise with you!
To get more information, including specific pricing information, please contact Ben Kerin at benjkerin@gmail.com.
Top Roller Advertisment 
A top roller advertisment will appear at the top of WrestlingNewsSource.com next to our website logo and will be one of the first images a visitor of WNS is exposed to. The advertisement will be on a roller which means others advertisers may also feature here however, the roller is not constant and your advertisement will remain static for those who are exposed to it.

Cube Advertisment 
Cube advertisments appear down the left side of WrestlingNewsSource.com and feature on EVERY page which means your advertisment will be exposed to thousands of pro wrestling fans daily.

In-News URL
NEW: Introducing in-news promotions which will allow you to feature your websites URL and a short description. We are able to highlight the link further by coloring the text, increasing description length and placing the text in a box. This type of advertising is highly effective as readers of WNS are guaranteed see the link after reading one of our news items.
NOTE: We do not accept links which promote fake taglines such as "John Cena Turns Heel - Click Here for more" - HONEST and GENUINE text only.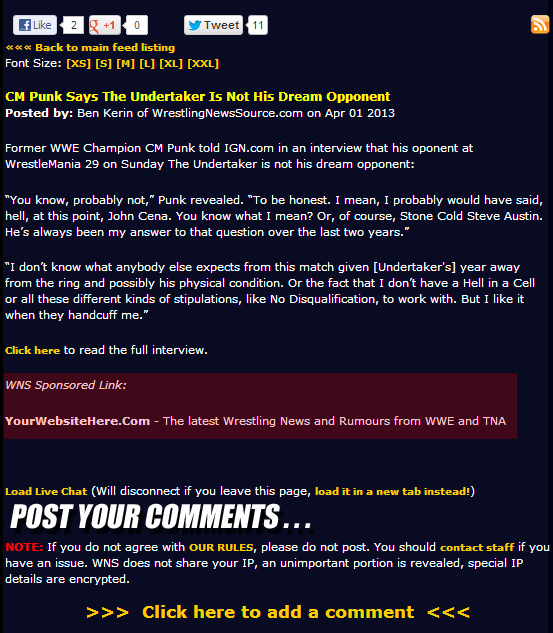 Social Media Giveaway 
NEW: Introducing giveaway promoting which allows you to feature your own contest on our website which we will design and promote to our community via Facebook and Twitter. This type of advertising is a great way to expose your brand to new visitors while giving away prizes for their support.
Check out the following brands which have utilized this advertising service and have reported a big increase in followers to their Facebook and Twitter pages which in tern has increased interest and sales.
- Wrestling Manager - iOS Game Giveaway.
- TRY THIS ON FOR SIZE - T-Shirt Giveaway. 

Website Statistics 
- Quantcast Rank / U.S Views / Globe Audience 
- Alexa Rank / Search % / Visits