The Chris Benoit Family Tragedy
Posted By: Caylon Knox on Jun 20, 2013
Throughout his career, Chris Benoit established himself as one of the most accomplished and one of the most respected performers in the history of professional wrestling. He captured every Championship, he faced all the top stars of the industry, he put on countless classic matches, and he did it all with honor and class.
The highlight of Chris Benoit's wrestling career took place on March 14, 2004 at WWE WrestleMania XX. In a true WrestleMania classic, Benoit defeated Triple H and Shawn Michaels in a Triple Threat Match for the prestigious WWE World Heavyweight Championship in the world's most famous arena, Madison Square Garden.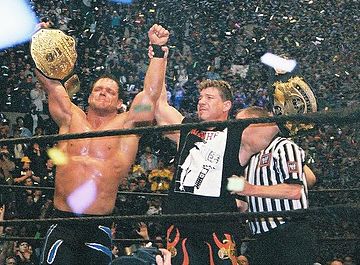 Chris Benoit and best friend Eddie Guerrero celebrate at WrestleMania XX (2004)
However, for all of his success in the squared circle, Chris Benoit's body, his brain especially, suffered significant damage. And it was the damage to his brain, possibly combined with several other factors, that led to one of the most tragic events in the history of sports and entertainment. An event that brought the wrestling industry to its knees and forever tarnished the legacy of a man who was undoubtedly going to be a Hall of Famer.
On June 24th, 2007, World Wrestling Entertainment presented a pay-per-view event titled Vengeance: Night of Champions. Chris Benoit was originally scheduled to compete in this event for the Extreme Championship Wrestling World Heavyweight Championship in a match against a young up-and-coming WWE Superstar by the name of C.M. Punk. However, this bout, which was considered to be a "dream match" by many wrestling fans, never took place.
Chris Benoit notified WWE officials that he would be unable to make the pay-per-view due to a family emergency. According to reports, Benoit informed WWE officials that his wife Nancy, formerly known in wrestling as Woman, and their seven-year-old son Daniel, were both extremely sick with food poisoning. But in reality, this was not the case.
Over the weekend of June 24th, several of Chris Benoit's close friends, including Chavo Guerrero Jr., were concerned with Benoit's odd behavior. Benoit was also known for his dedication to the wrestling business and many people felt that it was very strange that he would miss any event, particularly a pay-per-view where he was scheduled for a World Championship match. Benoit also sent out strange text messages to Chavo and WWE referee Scott Armstrong. This prompted WWE to call the Fayette County Sheriff's Department in Georgia to do a welfare check on Benoit on Monday, June 25th. It was on this day that a horrific scene was discovered inside the home of Chris, Nancy, and Daniel Benoit.
The Fayette County Police informed WWE that they had discovered the bodies of Chris Benoit and his family inside their home and it was soon revealed to the world that one of the greatest wrestlers of all time, along with his wife and son, had passed away.
On that night, while the exact details of the deaths were still unclear, WWE paid tribute to Chris Benoit during a special three-hour episode of WWE Monday Night Raw. The program was hosted by WWE Chairman Mr. Vince McMahon and also featured testimonials from various WWE performers and other staff. This would be the last time that Chris Benoit's image would ever be featured on WWE programming again.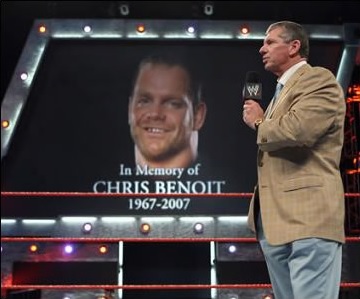 Vince McMahon stood in the ring of an empty arena in Corpus Christi, Texas, to address viewers at home of the death of Benoit.
On Tuesday, June 26th, the terrifying truth was revealed to the world: Chris Benoit had murdered his wife and son and then took his own life. He first took the life of his wife Nancy, reportedly by asphyxiation. He then took the life of his son Daniel by way of asphyxiation as well, although toxicology reports indicate that the child may have been sedated with Xanax before the murder took place, rendering him unconscious. Chris Benoit then took his own life by using a weight machine to create a noose and proceeded to hang himself.
These facts sparked an immense wave of controversy and speculation in the wrestling business, as well as in the media. What is known for certain is that Benoit had indeed suffered brain damage, to the point where the medical examiner who looked at Benoit's brain compared it to an 85-year-old's brain with Alzheimer's. Chris Benoit's body also contained the substances Xanax and hydrocodone, as well as elevated levels of testosterone. The substances found in Benoit's body brought up accusations of steroid abuse and the theory that steroids, more specifically, "roid rage", may have played the biggest part in Benoit's actions. WWE however, vehemently denied that "roid rage" was responsible for Benoit's actions, citing that what he did was an act of "deliberation" and not an act of pure rage.
Another theory is that the rocky relationship between Chris and Nancy may have also been strenuous on Benoit. Nancy reportedly filed for a divorce from Chris in 2003, but withheld it several months later. The divorce was allegedly filed for domestic abuse on Chris's part.
In divorce papers filed in 2003, Nancy Benoit included a petition for protection from domestic abuse against Chris. In the papers, Nancy claimed that Benoit, "lost his temper and threatened to strike the petitioner and cause extensive damage to the home and personal belongings of the parties, including furniture." Nancy added that she was, "in reasonable fear for petitioner's own safety and that of the minor child." - Source:

TMZ.com
Regarding Daniel Benoit, there were theories that he may have suffered from physical and/or mental difficulties, including fragile X syndrome. However, it was revealed that there were no medical records of Daniel having any kind of physical and/or mental difficulties, and he reportedly kept up fine compared to his fellow students in school.
In June of 2013, over six years after the tragedy took place, Chris Benoit's sister-in-law Sandra Toffoloni revealed in an interview that had Chris Benoit not taken his own life, he may have had less than a year to live due to having an abnormally large heart which was reportedly three times the size of a normal heart according to the medical examiner. Toffoloni also stated that Chris Benoit was actually planning on leaving WWE after the tragic passing of one of his closest friends who he considered to be a brother, the legendary WWE Hall of Famer Eddie Guerrero, in November of 2005.